Coutinho: "We're a long way back from Atletico but the season's long"
"We want to fight for the title," the Brazilian said after 4-0 Osasuna win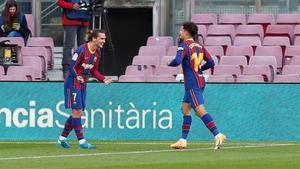 Philippe Coutinho sent a message to Atletico Madrid after Barcelona's 4-0 win against Osasuna on Sunday. Barça are nine points behind Atletico but the Brazilian says they have not given up on winning La Liga.
"We're a long way behind Atletico but the season is very long," Coutinho warned. "We have to fight hard and take things game by game. Little by little, we're getting better.
"The key is to enjoy ourselves on the pitch, as we did today, and to win games, because we want to fight for the title, that's our objective."
Coutinho scored the third goal of the win against Osasuna and says he's trying to get back to his best form following three weeks out with a hamstring problem.
"When you come back after an injury it's difficult at first," he added. "I am trying to get back to my best and help the team. Today I was able to do that, thanks to a great pass from Griezmann, but, above all, I am happy with the great performance from the team."
Lionel Messi scored the fourth goal and dedicated it to Diego Maradona, who passed away this week at the age of 60.
Coutinho said: "We have lost Diego, who was an idol around the world who everyone in football admired and is going to miss. Messi's gesture was a nice homage to him."