Confidential SPORT: Schalke's Goretzka wants Premier League move
Chelsea and Liverpool are two of the clubs who could sign him
Barça, Madrid and Bayern have all shown an interest in him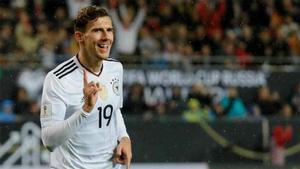 FC Barcelona, Real Madrid and Bayern Munich may miss out on the chance to sign Leon Goretzka. The debate is ongoing about the Schalke 04 midfielder's future, although he's likely to swap the Bundesliga for the Premier League. That's what's been hinted by Oliver Bierhoff, the German national team's director, who has spoke about the young German players preferring the contracts on offer in England.
Bierhoff all but confirmed Goretzka will leave Schalke -- his contract expires next summer -- and is seems he will not listen to the offers from Barça, Madrid and Bayern and will focus on the Premier League. Chelsea and Liverpool, who could lose Philippe Coutinho to Barça, seem to be the two clubs best poised to do a deal.
Leon Goretzka is one of the players Barcelona have followed in recent months and his compatriot, the current Barça stopper Marc-Andre ter Stegen, has recommended his signing for next season.