Concern at Barcelona over new signing Pjanic's lack of fitness
The club are surprised at how long it's taking the Bosnian to get into shape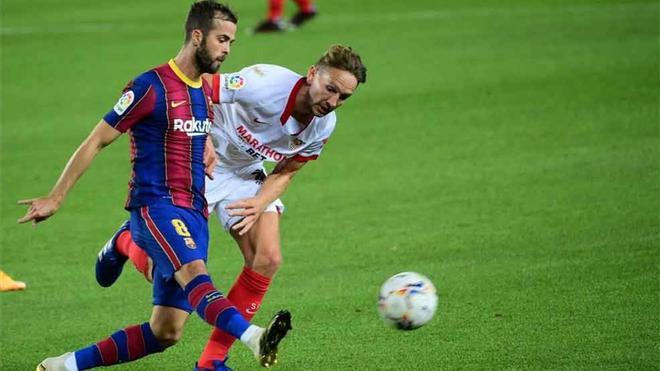 Barcelona have played four league games but Miralem Pjanic is still in preseason. He arrived out of shape and is still a long way behind his teammates in training. The coaching staff have faith in him and are conscious that he suffered from COVID-19, but they still feel the former Juventus man let himself go a little too much in August.
The midfielder played his final game for Juve on Aug. 7, the Champions League game against Lyon. The Italians won the match 2-1 but exited the competition on away goals. From there, Pjanic went off on holiday.
Two weeks later, he tested positive for COVID 19 on Aug. 22. After testing positive, he said: "I want to calm everyone down. I am fine and luckily I am asymptomatic." Two weeks later, on Sept. 8, he tested negative.
The Bosnian international trained with Barça for the first time on Sept. 17 when the majority of the squad had been training since Aug. 31. Therefore, he's been training for around a month and is still a long way from peak physical shape. The reality is that he's struggling to match his teammates' intensity in training. It's not cause for alarm -- the season has just started -- but it is weighing on the coaching staff's mind.
Pjanic, who played 12 minutes against Villarreal and 15 more against Sevilla, was in line to start against Getafe. However, he injured his back in an international match against Poland. In the end, he made the squad but did not come off the bench.
Keeping in mind the next league game is the Clasico vs. Real Madrid, a game he's unlikely to start at this stage, Ronald Koeman is thinking of starting him in the Champions League on Tuesday against Ferencvaros. The Dutch coach is convinced Pjanic will be an important player and wants him at his best as soon as possible. Tuesday's game is the perfect chance to find some rhythm. He needs it.