'Chucky' Lozano: The Mexican star who Barcelona are tracking
The PSV forward's agent has confirmed Barça interest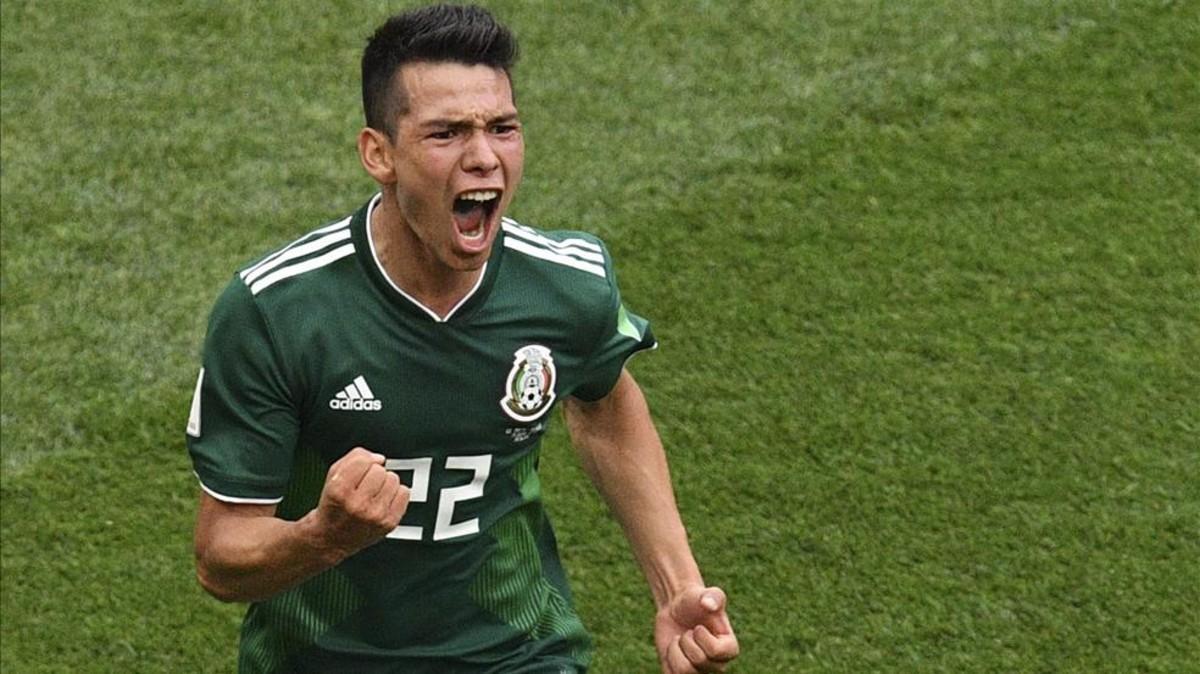 Hirving Rodrigo Lozano Baena is the most recent star to emerge from Mexican football. Formed in the academy at Pachuca, he joined PSV Eindhoven last summer, the club that also signed Romario and Ronaldo when they were younger.
Lozano, 22, seems to have been touched by a magic wand, given that the day he made his debut for Pachuca in the Mexican Primera Division he did so in the Azteca. He came on the in the second half with the No.70 on his back and a few minutes later scored the game-winning goal. A shot with his left foot from outside the area -- he's right footed.
His debut at this summer's World Cup couldn't have been more successful. With half an hour gone, he cut inside the area and gave Mexico the lead against Germany. It proved the only goal of the game and was a demonstration of his great technique.
PSV paid 10 million euros for him last season. He scored 17 goals in 29 Eredivisie games as they won the league.
Lozano has been known by Barcelona for a while. They have good reports on him from CONCACAF tournaments through to the Olympic games with his country and from his performances with Pachuca and PSV. It was not strange then, when his father admitted to ESPN there's been "an approach" form the Catalan club. "When the World Cup ends, we will see what the reality is: if he stays at PSG or moves elsewhere," he added.
That Barça like him is an undeniable reality. But the question is if he would fit in. He appears similar to Griezmann, albeit playing off the other foot, in that he can move around the front line and can drive with the ball. Would he be incompatible with Philippe Coutinho? Would he create competition for Ousmane Dembele?
However, Barça aren't the only club interested. Real Madrid have also been linked and there are several English clubs also thought to be in the running.
Lozano has the same profile and career start as stars like Romario and Ronaldo, who left South America for PSV and then took steps to Europe's biggest sides. His development at the World Cup should be watched closely -- his price can only keep on rising.
Raiola IS HIS AGENT
One of the things Barça don't like about Lozano is that he's signed up with Mino Raiola, the agent to other players such as Zlatan Ibrahimovic, Paul Pogba, Romelu Lukaku, Henrikh Mkhitaryan, Marco Verratti, Gianluigi Donnarumma and Mario Balotelli. Raiola's relationship with Barça took a dive when the club signed Ibrahimovic, although the problem was more to do with Pep Guardiola than the Catalan club.
Chucky: THE HORROR MOVIE
Lozano's career has been a slow burner. Called Rodrigo by his family, he's the third of four siblings. He and Bryan were football mad from very young. A friendly tournament played in Pachuca changed his life forever. Scouts from Los Tuzos were impressed by his pace and dribbling and made the then 10-year-old an offer to sign for Pachuca's academy and move into their residency.
"We never pressured him nor told him what he had to do, we just told him that whatever he decided, we would respect," his father, Jesus, remembered in a recent television report.
His mother added: "It was tough for us, as a family, to let him go. I told him to be happy and to follow his dream."
The first coach he had was Christian Gomez, who remembers "the great mental and emotional strength" possessed by the young Chucky, as well, of course, as his "undoubted football quality."
It was Angel 'Coca' González, who took the final decision to keep him at the club. "He was quick, skilful, he made things look easy," he says. While living at the residency at Pachuca he was given the nickname Chucky, which follows him to this day. A fan of jokes, he would hide behind doors and beds and scare his teammates when they came into the room. That's why the began to call him Chucky, after the famous horror movie.
It was in Pachuca that he met Ana, who he married at 18 and with whom he has two daughters, the youngest born while he was with PSV last season.