C+ Francia: Manchester City ready to pay Messi's release clause
Until he signs his new deal his release clause is 300 million euros
Reports in France say City are happy to pay that for the Argentine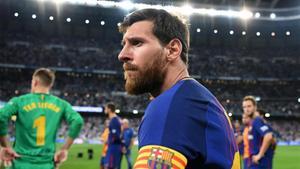 It's not been a good summer for Barcelona. Neymar's move to Paris Saint-Germain is still very recent and now, another member of the trident, is being linked a move away.
According to C+Francia, Manchester City, coached by Pep Guardiola, are prepared to pay Lionel Messi's release clause, which is currently 300 million euros until he signs the new contract, which has already been agreed.
On Friday, City's owner Khaldoon Al Mubarak announced that the club will make the most expensive signing in their history -- without giving names -- before the end of the transfer window on Sept. 1.
C+Francia strengthen their report by adding that Messi has still not signed his new deal, which will run until 2021... and agreement which was announced on July 15.
His current deal is due to expire next summer.
Let's see what happens in the coming days and if the information from France has any truth to it. But what's certain is that Barça's fans could do without another drawn out transfer saga.