Brazil coach Tite: It's absolutely logical Barça would want Coutinho
Tite is a hige fan of the Liverpool player and thinks he'd fit in at Camp Nou
"Coutinho's magic, he can invent things. He's a different player," he told SPORT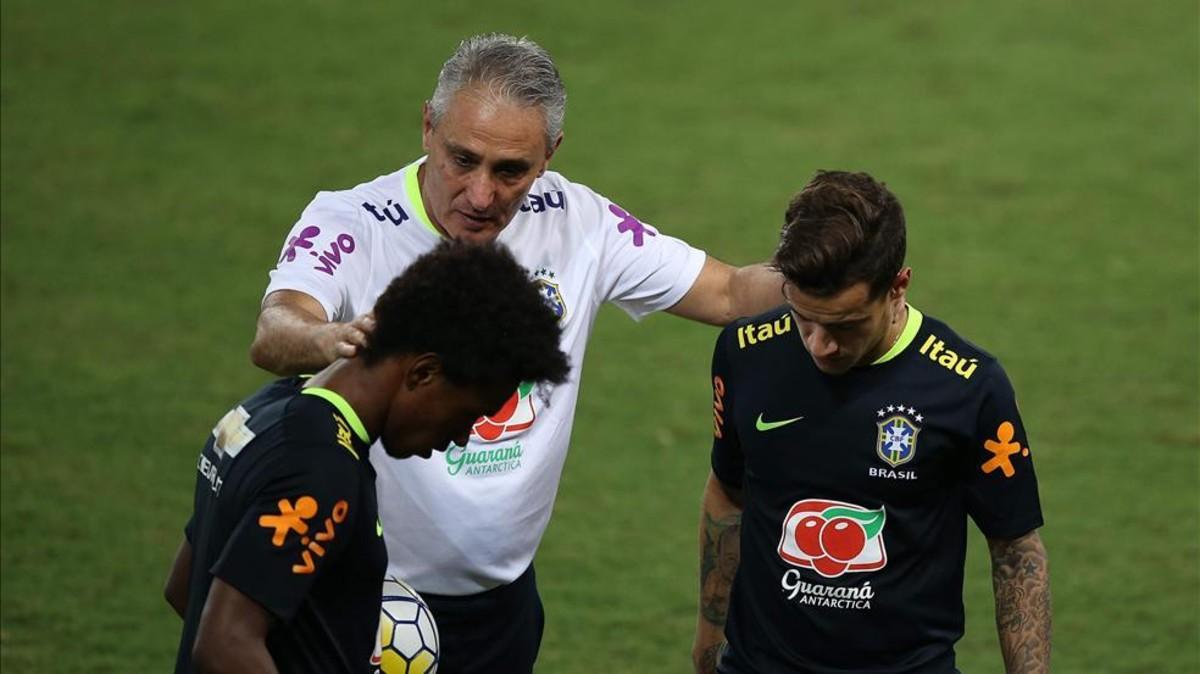 Eight victories in eight games, some especially worth remembering: 3-0 against Argentina, 4-1 in Uruguay. Tite has helped Brazil get back to their best and he spoke to SPORT in Rio de Janeiro about, among other things, Barcelona's interest in one of his side's star players: Liverpool's Philippe Coutinho.
They say Coutinho is the apple of your eye...
I have a soft spot for midfielders who are talented and creative and who manage to neutralise the rival. My idea of football is to have a consistent and creative midfield, but at the same time aggressive, because that is the first step to performaning well. The trademark of the great teams is always very high quality and Coutinho fits that.
What qualities does he have?
He's an articulator. He has his ideal position in both a 4-3-3 and a 4-4-2, as seen at Liverpool, where he supplies Mané and Firmino and creates alongside Lallana. I like players who have thos qualities.
You've always played him on the right...
Neymar's ideal position at Barcelona is on the left, so I thought: how can I work with these two talented players? I had Willian, who is more direct and Coutinho is a more creative midfielder, more creative, a thinker, magical...
Did you have to convince him?
Before the first training session I called him and I said I want him to play on the right but with the same role. You will even have more freedom than at Liverpool because, if you want, you can move around from side to side. You can get close to Neymar, you can work through the middle. I want you to have more creative freedom. I want you to feel comfortable.
Neymar - Coutinho
The last Brazil game against Paraguay (3-0), was that the perfect example of how Neymar and Coutinho can play together?
They complement each other tactically. There was one goal they were brilliant for, Neymar on the left, Coutinho coming in to the middle.
How've you managed to get them playing so well together?
I knew they had played together for the U17s and U20s, but as Valdano says "the pitch speaks". I propose it and I observed. We got it right with that combination. Both are quick thinkers and execute things quickly, too. They're on the same level. They both break down rules, change the rhythm, get in from behind...
It's logical that Barça would want this double act?
Yes. Absolutely yes. I don't want to be pretentious and give an opinion on Barça, but who wouldn't want a player like Coutinho? That magic, that capacity to invent and create something, that change of rhythm, the way he builds play...
It would be good for Brazil if they play together at Barça before the World Cup?
It depends where they play. At Liverpool, Coutinho is on the left, but the important thing is that he has the same role as with the national team. Look, if I was Klopp I would fight to make sure I kept hold of him.
coutinho AT barça
Where would you see him in the Barça side?
Just to be clear, I'm talking hypothetically... There's Sergio [Busquets] and two articulators, Rakitic and Iniesta, who are the thinkers of the team. Coutinho could play that role. He is the ideal player for Barça.
His evolution as a player will see him move more central?
Yes, it's something we've talked about. I even spoke with him and Klopp about the possibility. We need to create alternatives. Of course, there will be doubts. Will he be better-marked in the middle? Will you lose that element of surprise? We will only know when we use him there.
Are Coutinho and Neymar cracks?
For me, Messi and Cristiano Ronaldo are cracks for the length of time they've been at the top, for the different eras they've transitioned between and for what they have achieved.
How would you describe them then?
I like to talk about different players. Neymar is different. Coutinho is different. Both create things, find solutions in moments when we're not expecting it.
How have you got Neymar playing so well?
Maybe because I had Ronaldo at Corinthian at a difficult moment for a footballer, which is the end of the career. I treated him with loyalty, sincerity and by being honest. That's what I do with Neymar, Coutinho, Dani Alves... with everyone.
Do you see Neymar as a complete player?
That is already the perception and it was Barça who allowed him to [kick on]. He's improved defensively there. Rakitic holds up for the right for Messi to have a greater freedom creative freedom and Neymar also does that so that Iniesta does not get overworked. Neymar has already evolved tactically.
THE BEST neymar
Barça improved him?
It's what Luis Enrique's added to Barcelona in general. To live and play with players of the level of Xavi and Iniesta, who are examples on the pitch, has influenced Neymar.
This season he's taken a step forward.
He's a young player, 25 still. He's still not reached his peak. There's room to mature and evolve. Now he sustains himself more, he doesn't fall as much, an example being his goal against Uruguay. But he's still reached his full maturity.