Braithwaite: Very happy with the win and with another goal
The Dane has scored four times in the last three Barcelona games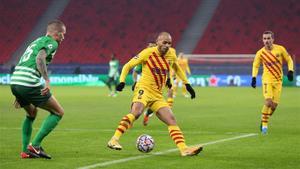 Martin Braithwaite was one of the stars of Barcelona's 3-0 win against Ferencvaros in the Champions League on Wednesday.
The striker continued to take advantage of the chances Ronald Koeman is giving him, scoring one goal and winning a penalty, which Ousmane Dembele scored.
A long injury to Ansu Fati has allowed him his opportunity and he has now scored four goals in the last three games in all competitions.
Braithwaite even wanted to take the penalty against Ferencvaros that he won -- as he did in Kiev last week -- but he let Dembele step up.
"Dembele wanted to take it so that's all," he said after the game.
The Danish international added: "I am really happy with the win and to score again. My aim is to keep helping the team."
NEW FC BARCELONA PODCAST IN ENGLISH