Braithwaite demanding more chances from Barça coach Koeman
The Danish striker sent a message in Kiev with a well-taken brace -- could he start vs. Osasuna?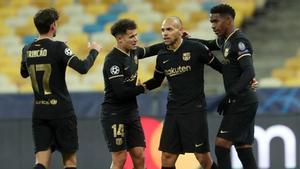 In nine months at Barcelona, Martin Braithwaite hasn't had a stable run in the team. He'd only just arrived and produced a really good performance against Real Sociedad on his full debut when coronavirus halted football.
The sensation at the time was he was going to have a run in Quique Setien's side with Luis Suarez and Ousmane Dembele injured. When football returned three months later, the Danish forward came back in style with another good display against Mallorca and a goal to boot.
But he became a victim of the rollercoaster season under Setien and mysteriously disappeared. In the summer, many thought he would leave, but he wanted to stay, convinced his chance would arrive and that he was destined to succeed.
If he has shown anything in this time it's desire and faith in himself. He even took on the No.9 shirt, vacated by Luis Suarez, a number that comes with a lot of weight.
He knew he wasn't going to be a starter from the off under Ronald Koeman. In fact, he knew that Griezmann, Messi, Trincao, Dembélé, Coutinho and Pedri were ahead of him. And before Tuesday's game in Kiev, he'd played just 50 minutes broken down across many games. But in Kiev he got his chance to prove himself.
And he didn't waste it. From the first minute, he didn't stop running, offering for the ball and creating space. Things didn't quite come off in the second half but they did after the break. An involuntary assist for the opening goal was followed by two strikes of his own.
Braithwaite's first goal was a poacher's finish at the far post. His second goal came from a well-taken penalty which he had won himself.
Griezmann was on the pitch by this point but Braithwaite stepped up and took the spot-kick. He wanted another goal. It was his day. It was his game. And no one was going to take it away from him. He had been waiting patiently for the chance to show he deserves more.
He did himself a favour. And how knows if Barça, who need to sell in January, end up re-assessing his future at the club. A night in Kiev showed he can play the No.9 role.