Bartomeu: Messi doesn't need to sign the contract, his father did it
The Barcelona president says Messi is already playing with his new contract
Messi scored twice for Barcelona against Juventus in midweek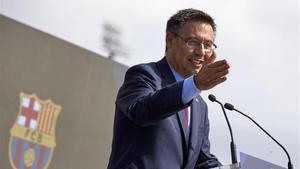 Josep Maria Bartomeu has tried to calm down Barcelona fans over Lionel Messi, saying his new contract has been signed by his father.
Speaking to 8TV, Bartomeu explained: "The official photo with the signature we will do, there's no rush. The contract was signed by his father, as well as that of his foundation and his image contract.
"He doesn't need to sign it, his father already has. He is already playing with the new contract. There's no better test to his commitment than to see him play."