Barcelona set asking price for Cillessen: 30 million euros
The Dutch keeper already has an offer on the table but now must discuss his options with Barcelona if he wants to find a solution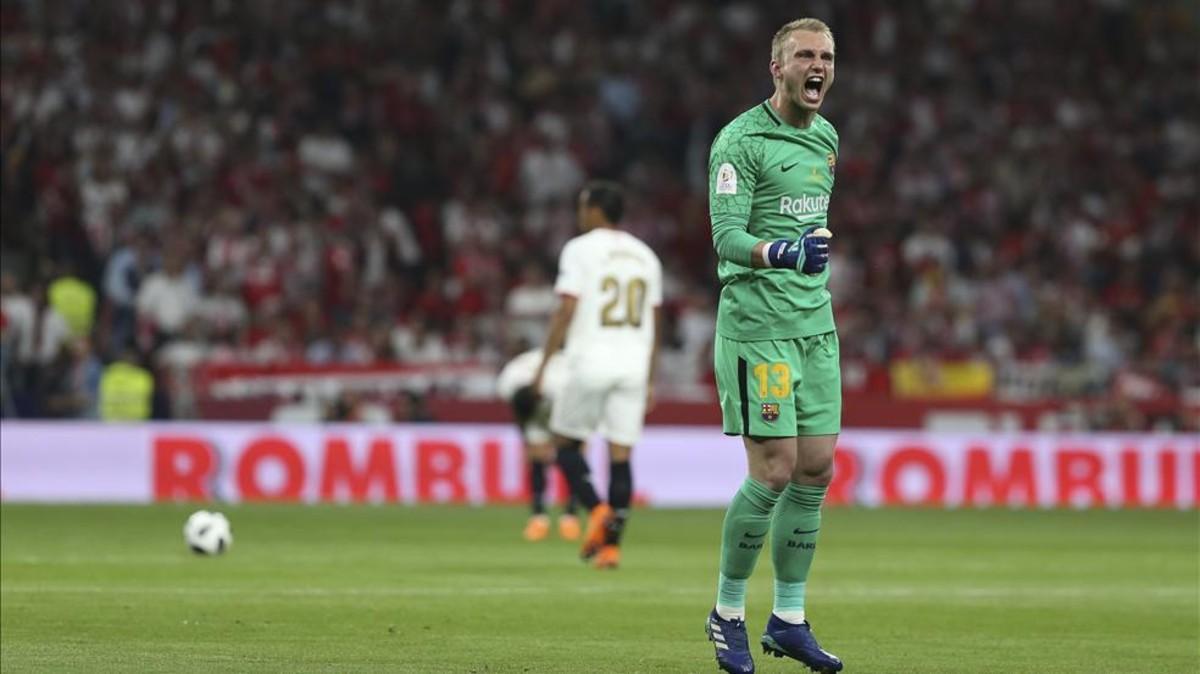 Barcelona recognise that it's going to be difficult to keep Jasper Cillessen at the club. After two seasons at the Camp Nou, the keeper has earned the respect of everyone for his fine performances and professional attitude despite constantly being in the shadow of Marc-Andre ter Stegen. But Cillessen knows that now is the time to move in order to play regularly and that's something which Barça can't guarantee him.
The future of the Dutch keeper appears to be in England with a Premier League side, although there are interested clubs from Serie A too. In the last few weeks many teams have considered a move for Cillessen but, until now, none have backed up their interest with a concrete offer to Barcelona. Chelsea, Arsenal, Liverpool and Napoli are just some of the names linked with a swoop for the goalkeeper. Barcelona now know that Cillessen has a firm offer on the table and are prepared to negotiate a sale.
Strategy
Barcelona's strategy, until now, was to demand the Dutchman's €60m buyout clause but the club would realistically be willing to accept half of that figure. For this reason, in the early discussions, Barcelona have asked for a little bit more than €30m.
At the Camp Nou they are aware of the current goalkeeper market with many big names looking to either switch clubs or whose contracts are running down and could be available for a lower than expected price. The futures of Thibaut Courtois (Chelsea) and Alisson (Roma) are key in setting the ball rolling. Arsenal, for example, have already secured the signing of German keeper Leno, while Milan confirmed the signing of Pepe Reina too. Liverpool are looking for a new number one following Karius' nightmare performance in the Champions League final and Cillessen has been linked with them.
If Liverpool do make an offer for Cillessen, Barcelona would expect the negotiations to be tough, as the Camp Nou side hasn't forgotten about how difficult it was for them to sign Philippe Coutinho in January.
two profiles
The Technical Secretary is already looking at a list of alternatives to cover Cillessen's eventual exit. The Dutch stopper has the perfect profile and adapted to the needs of the team, performing to an excellent level when called upon and remained professional throughout his time at the club. Barcelona are now considering two different types of profiles to replace him: a veteran goalkeeper to accept the backup role or a youngster with potential.
In Sevilla they believe Real Betis' goalkeeper, Antonio Adan, is amongst the list of potential arrivals at Barcelona. The former Real Madrid man is looking for a new club after Betis signed Pau Lopez on a free transfer. However his stay in Spain's capital makes this move unlikely and stylistically he doesn't fit Barcelona either.
As it stands, Barcelona are waiting to talk with Cillessen when he returns for them to reach a positive conclusion regarding his future.