Barcelona present new fourth shirt inspired by the Senyera
The club will wear ths shirt against Atletico Madrid at the Wanda on Dec. 1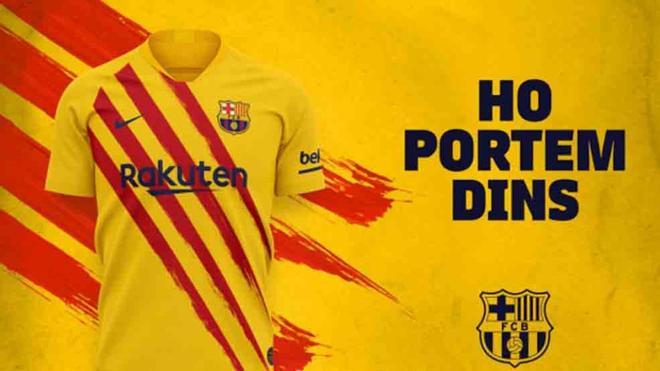 FC Barcelona have presented their fourth shirt for the 2019-20 season, a shirt that touches on the club's Catalan identity.
"With the tagline Ho portem dins ('It's deep within us'), FC Barcelona is presenting a new kit for this season that features the Catalan flag, the senyera, in honour of the club's roots and history," a statement said.
"Over 120 years the club has grown as an entity that is open to the world, and which views sport as a phenomenon that can build bridges between people. However, this has not meant losing its sense of Catalan identity, culture and values.
"The new design features a modern look in which the four red stripes appear diagonally across a yellow background.
"Another highlight is the retro style V-neck, while the shorts are in the same yellow hue as the shirt to create a sense of continuity from top to bottom. The socks are also yellow, with four red hoops and the Nike logo and the word Barça in blue."
Barça plan to wear the new shirt for the first time when they play Atletico Madrid at the Wanda Metropolitano on Dec. 1.