Barcelona preparing huge summer revolution due to flimsy form
The Catalan club will look to sign a couple of quality players for the first team
They will also look to bolster the squad with more graduates from La Masia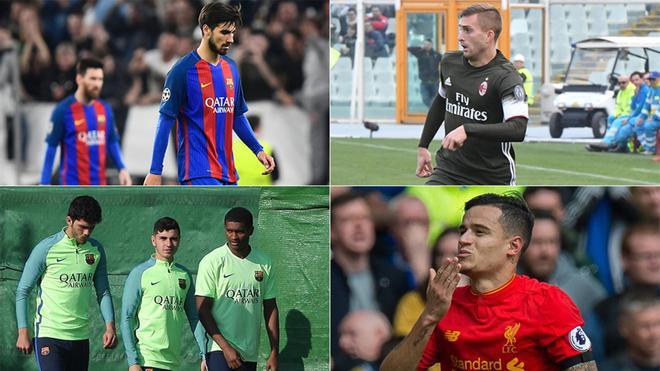 The flimsiness shown by Barcelona this season and the continued slip-ups have motivated the club to change their summer plans in terms of planning for the next season's first team squad.
Barça have taken the decision to revolutionise the squad, which will meand incomings and outgoings. The new manager will not be appointed with the idea of continuity. There won't be a huge amount of signings but they will be players who require a significant investment and who have quality.
There will also be more emphasis put on the forgotten academy. Everything has been studied and there are names on the table.
Barça's idea has been evolving, but the defeat to Juve has left no doubts that there needs to be a change. If Juan Carlos Unzue had a chance to replace Luis Enrique, that is now unlikely.
However, a new decision on the new manager will not be taken until the team sporting objectives have been hit or missed. The next week could be revealing.
QUALITY SIGNINGS
Where there is no doubt is on the signings. Barça will invest all available money on players who can make a difference. Less signings, but more quality. It's not a huge list, but there are nine of 10 names who the club have contacted.
COUTINHO
One of those players is the the Brazilian Philippe Coutinho. Despite Liverpool denying it, this could be his last season in the Premier League and his profile is perfect for Barça. There are advanced talks with his people and all that remains is for the next step to be taken. Also on the list of dream signings are Marco Verratti, Paulo Dybala and Hector Bellerin. The players Barça sign will be signed to play.
BET ON LA MASIA
And the La Masia will also play. At Barça they admit that there has not been a big enough role for players who have come through the academy. It's true that quality has been questioned in recent years, but the club want to exploit the players they develop and who grow up with Barça's values.
Carles Aleña will be in the first team with options to play and Gerard Deulofeu will be re-signed with the intention of him remaining with the first team. Others could return from loan spells, such as Sergi Samper. The idea is to improve the depth of the squad -- as was supposedly done last summer. A new cycle is beginning at Barça.