Barcelona monitoring Flamengo defender Natan
The centre-back has joined Red Bull Bragantino on loan for the season
Domenec Torrent's spell on the Flamengo bench was as short as it was intense but one of the few legacies he did leave behind was his faith in youngsters.
Among his discoveries, which came during an outbreak of Covid-19 that decimated his squad, was the central defender Natan (20 years old), who is now on loan at Red Bull Bragantino until December. Goalkeeper Hugo Souza (22) was another one.
Barcelona have good reports on Natan, a 1.88m defender who came through the youth teams playing as a full-back. He stands out for his character and his leadership qualities, but he's also technically good, enabling him to bring the ball out from the back well. He is very much the modern centre-back.
Red Bull Bragantino, the Brazilian arm of the energy drink company's football project, signed him on loan until the end of the calendar year. They paid 770,000 euros and have established a price of 3.4 million euros for 50 percent of his economic rights once he's played 20 games. Flamengo have done their homework and have him tied down with a release clause of 70 million euros.
Flamengo continue to do business with their academy graduates. The big cases include Paqueta, now at Lyon, and the Real Madrid duo Vinicius and Reinier. And with the money they make, they sign more experienced players who can help them fight for titles. Currently managed by Rogerio Ceni, they're still the best side on the continent.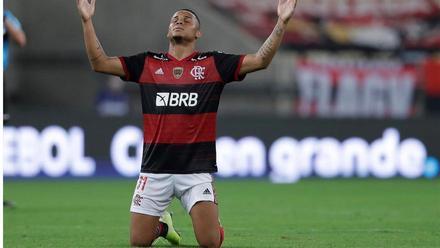 Playing for Red Bull Bragantino is not a step back for Natan, who will now have minutes playing for one of the best football playing sides in Brazil. They will be involved in a continental competition this season (the Copa Sudamericana) after a brilliant second hald to last season, when they only picked up two points fewer than Flamengo, who won the lead, and At. Mineiro, who were coached by the genius Jorge Sampaoli.
Natan's short professional career has been meteoric thanks to Torrent's eye for talent. In September of last year, he was promoted to the Flamengo first team and Pep Guardiola's ex-assistant wasn't afraid to give him a chance. Under Torrent, Natan ended up starting regularly, due to injuries to Rodrigo Caio. He showed great maturity playing in big games, including in the Cope Libertadores.
Torrent's dismissal harmed him. Rogerio Ceni opted for more experienced players and Natan dropped to the bench. He left Flamengo having played 18 games, 16 as a starter, following his debut on Sept. 27. He scored one goal.
Now, a new chapter begins at Red Bull where he will be followed closely not only by Barcelona, but by various European clubs aware of his potential. His first steps will be in the Campeonato Paulista, the most important regional tournament in Brazil.
NEW FC BARCELONA PODCAST IN ENGLISH