Barcelona have two signings underway: Yerry Mina and Arthur
Barça have taken some big decisions and will head to Brazil
They want Mina in January and Arthur next summer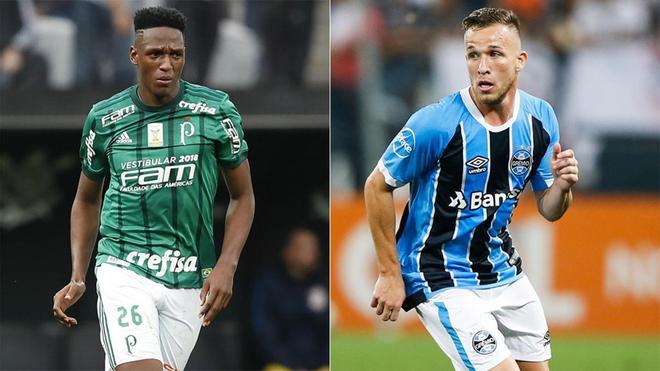 Barcelona will send a delegation to Brazil next week with the idea of moving on talks to sign Yerry Mina in January and to tie Arthur down for the summer.
Barça have three problems on the table. The first is the signing of a centre-back to cover the gap left by Javier Mascherano's pending move to Hebei Fortune in China. The decision is taken and saving surprises it will be Palmeira's Yerry Mina. There's an agreement in place with the player and with the Brazilian club for a €9 million deal in July, although the hope to bring that option forward. That could push the cost up to €15m.
The delegation will meet with Palmeiras to thrash out an agreement and see the player to officially communicate that they want him in January. When he is in Barcelona, the door will open for Mascherano.
THE ARTHUR CASE
Next, Barça's delegation will head from Sao Paulo to Porto Alegre, where they will meet with Gremio officials, who will have returned from the Club World Cup. Barça don't have time to lose after Arthur's great form in the Copa Libertadores. Chelsea also want to sign the 21-year-old.
Therefore, the Catalan club will meet with the Gremio president with the plan of reaching a deal in the region of €25m. Although with more suitors emerging, the Brazilian side may put the price up.
Arthur is not at the Club World Cup due to an injury and has already been seen in a Barça shirt alongside Robert Fernandez.
Talks for Arthur don't mean they want him now. The decision is not taken. It could be that they are negotiating for him to arrive in the summer of 2018 -- or for January, if the Coutinho deal doesn't go through. Barça want to tie Arthur down and prevent other clubs getting involved. The player wants to move to Camp Nou.
With this trip, Barça should finalise deals for a centre-back and a midfielder, two of Pep Segura's priorities this winter. It would just remain for a deal to be thrahsed out for Liverpool playmaker Coutinho.