Barcelona coach Xavi's big clean-up: 16 players have left since he came in
Xavi has just 10 players left in the squad from the group of players he inherited
The 'picture' that Xavi Hernández found when he took over as FC Barcelona's head coach on 5 November 2021 was a daunting one. After Ronald Koeman was sacked and Sergi Barjuan acted as interim coach for three games, Xavi arrived as the nail full of nostalgia that Barcelona fans were clutching at. There was no other choice.
The situation was extremely delicate. The pieces he had were what they were, with an average level far below what he had left as a player in 2015. Against this context (and with overflowing excitement, but also an awareness), the first line-up he put out (in a derby against Espanyol) was a good indication of the 'panorama': Ter Stegen; Alba, Eric Garcia, Piqué, Mingueza; De Jong, Busquets, Nico; Gavi, Memphis and Ilias Akhomach.
The 10 survivors
The fact is that of that squad of players in the first team dynamic, only 10 names now survive. The 26 that Xavi started with upon his arrival were: Ter Stegen, Dest, Piqué, Araujo, Sergio, Riqui, Dembélé, Memphis, Ansu, Demir, Braithwaite, Neto, Coutinho, Lenglet, Pedri, Luuk, Jordi Alba, Sergi Roberto, Frenkie de Jong, Mingueza, Umtiti, Eric, Iñaki, Nico, Abde and Gavi.
As we said, only 10 remain: Ter Stegen, Araujo, Dembélé, Ansu, Pedri, Sergi Roberto, Frenkie de Jong, Eric, Iñaki and Gavi.
One of the things that the man from Terrasa was asked to do when he arrived was to put into action the long-awaited renewal of the squad that could not be carried out previously due to economic hardship. Contracts that had been extended with deferrals to be able to 'cheat' the 'fair play' and the millionaire losses due to the coronavirus.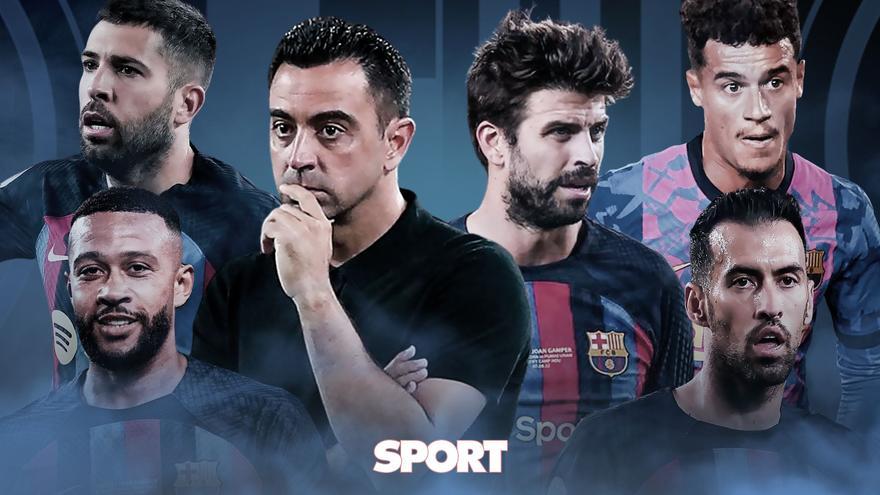 Plan rejuvenate 18 months on
It was a big ask and there wasn't much faith, but the truth is that a year and a half later, 16 of the 26 players he found are no longer with him. After the latest departures of Busquets and Jordi Alba, that famous 'purge' or 'cleansing' (beware, in most cases this has been the case, in others such as Busi's they have been voluntary departures) has seen the light of day.
Dest left on loan to Milan last summer, Riqui didn't renew and went to MLS, Memphis left in the winter for Atlético, Demir returned to his homeland, Braithwaite to Espanyol, Neto to Bournemouth, Coutinho to Aston Villa, Lenglet to Tottenham, Luuk returned to Sevilla from a loan, Jordi Alba and Busquets have decided not to continue after 30 June, Mingueza went to Celta, Umtiti to Lecce, Nico to Valencia and Abde to Osasuna.
In this massive exit operation, the actions of the technical secretariat have been key in the form of meetings and financial juggling from Mateu Alemany, Jordi Cruyff and company. The result is that next season we will see the closest thing to a project 100% 'made in' Xavi.