Barcelona can re-sign Gerard Deulofeu for 12 million euros
The forward has a contract at Everton, and is on loan at AC Milan, but Barcelona are tracking him
On June 25, 2015 he moved to Everton for 6m euros, signing on until 2018. Barcelona had an option to buy him back for 9 in June 2016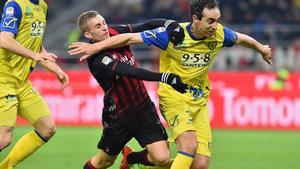 Gerard Deulofeu's form with AC Milan and Spain call-up is good news for Barcelona, who have the situation under control. They can buy him back from Everton for 12 million euros.
Robert Fernandez, Barcelona's secretary, said: "We have the possibility and it's good. I am very happy with what's happening."
He added: "Deulofeu was at Everton and not playing. He went on loan to Milan, where he's playing and has been called up to the Spain team. It's good news. I think it's 12 million to bring him back."
On June 25, 2015 he moved to Everton for 6m euros, signing on until 2018. Barcelona had an option to buy him back for 9 in June 2016, and 12 in June 2017.
Everton also reserve the right to put him up for sale to other sides, with a release fee clause of 18m euros.