Barça's Arnau Tenas and Madrid's Dani Carvajal clashed after clásico
The duo had to be separated on the Camp Nou pitch by Jordi Alba
Barcelona's players celebrated the vital victory in the clásico on Sunday in a huddle. And a few metres away, another crowd was forming. There were a couple of Real Madrid players, a couple of Barça players and a member of each staff. The television production had been switched off and the incident was off camera.
But inside the stadium, the spectators could see how a match of maximum rivalry that had been quite clean was tarnished by a final tussle. In the middle, Madrid's Dani Carvajal.
In several videos that have emerged to explain the origin of the conflict, the full-back can be seen going straight at Barça's third-choice goalkeeper Arnau Tenas.
The Barça Atlètic stopper (a regular in Xavi's squads) was heading towards his celebrating teammates and, presumably, said something to Carvajal, who reacted in a bad way.
ALBA SEPARATES
Luckily, Jordi Alba just happened to be passing by and tried to separate them. Carles Naval, always on hand to help, also appeared. The Barça delegate helped to calm things down, even though the goalkeeper was getting hot and bothered and tried to go after the Madrid man.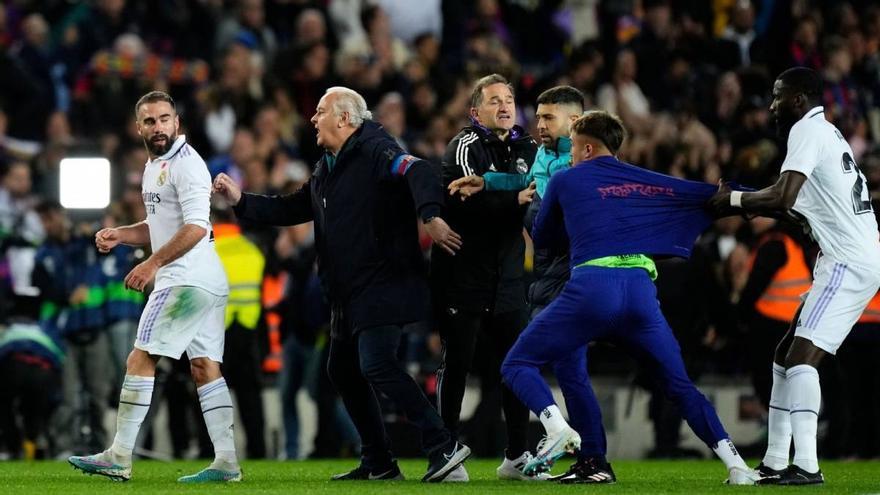 Then Rüdiger appeared, a member of the Madrid staff and, immediately afterward, the rest of the Baça players when they realise what a mess has been made. Ronald Araujo was another of the pacifiers.
We can interpret, from the images and reactions of both, that the clash had been going on for a long time and that both were already wound up.