Barça vs. Athletic: Busquets and De Jong back together in midfield
Xavi's side are back in action at Camp Nou after Thursday's win over Villarreal
The midweek win over Villarreal changed the mood around Barcelona and they go into Sunday's game against Athletic Club with more confidence, although Xavi Hernandez will still make changes.
Eyes will be on the midfield trio after Frenkie de Jong excelled in the pivot role against Villarreal, starting in place of Sergio Busquets with Gavi and Pedri ahead of him.
De Jong will play further forward against Athletic, though, in all probability, with Busquets returning to his usual role and Gavi also keeping his place. Pedri is in line for a rest.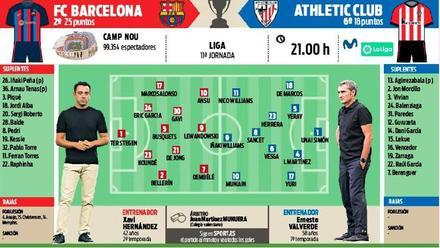 "The role of the pivot changes more if he's the free man," Xavi explained of the position. "In terms of coverage, understanding bringing the ball out, for me, Busi is the master, with so much experience and the gift of knowing where to be. He's important, just as Frenkie is, wherever he plays."
On De Jong, he continued: "He is don't of the players I like and when he sees the game in front of him is when he enjoys himself and is at his best. We try to make it that way, whether as a pivot or interior, so he is important."
Who will join Lewandowski?
Another doubt is who will play in attack. Robert Lewandowski is a cert, but his accompaniments are not. Ansu Fati and Ousmane Dembele are the most likely options, although Ferran Torres could also keep his place with Raphinha also waiting in the wings.
In defence, Hector Bellerin and Marcos Alonso could play as the full-backs, with Eric Garcia and Jules Kounde in the middle.