Barça squeezing more out of their stars than Atletico and Madrid
Two players in the Barcelona squad have already passed 4,000 minutes this season
Sometimes, the numbers can be as clear as they are inconclusive. And that is what happens when you analyse the amount of minutes players by the regular outfield starters at the three title candidates in La Liga, Atletico Madrid, Real Madrid and Barcelona.
The 'sacred cows' at Barça have accumulated a lot more minutes then their counterparts at Atletico and Madrid, although it's true that fitness doesn't seem to be one of the problems for Ronald Koeman's team. The opposite, in fact, given that in comparison to recent season, they seem in much better shape at this stage of the season. More than in the legs, this Barça side is lacking football.
The four Barça players to play the most minutes are Frenkie de Jong (4.328), Lionel Messi (4.012), Jordi Alba (3.972) and Antoine Griezmann (3.662). They are all key players in Koeman's XI and have played more than the regulars in Diego Simeone and Zinedine Zidane's sides. No one at Atleti or Madrid has broken the 4,000-minute barrier, which De Jong and Messi have passed and Alba will pass against Levante on Tuesday.
At Atletico, the most used players are Stefan Savic (3.564), Koke (3.418), Marcos Llorente (3.369) and Angel Correa (2.825). Savic wouldn't even be in the top five at Barça. There's almost 1,000 minutes difference between Atletico's most used midfielder, Koke, and Barça's, De Jong. It's important to note, though, that the Rojiblancos weren't involved in the Spanish Super Cup and didn't go far in the Copa del Rey, making their calendar slightly more workable.
In addition to the cited factors, you have to add in injuries and COVID-19, which has seen players like Luis Suarez and Joao Feliz miss a number of minutes. Suarez has played 2.722 and Felix 2.281.
As for Real Madrid, the most used players by Zidane are Casemiro (3.692), Karim Benzema (3.627), Raphael Varane (3.481) and Luke Modric (3.451). Compared to Barça, it's the same as with Atletico. Casemiro leads the ranking but at Barça he would only be fourth. Benzema's played 400 minutes less than Messi -- almost five whole games -- and Modric almost 1,000 less than De Jong. Varane, meanwhile, has even played less than Lenglet, who's the fifth most used at Barça on 3.525.
Madrid have gone two rounds further in the Champions League than Barça but went out early in the Copa del Rey. Barça have played 54 games, Madrid 52.
For Zidane, injuries have been a problem and absences for a number of reasons in general. That's the reason Sergio Ramos and Eden Hazard have only played 1.790 and 855 respectively.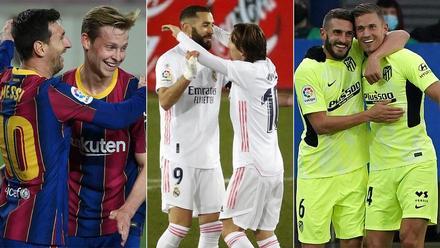 Good fitness
Despite the load of games and minutes for several Barça players, the reality is they're in good shape. That was seen in the Copa del Rey comebacks against Granada and Sevilla and also in the final when they improved late on against Athletic Club. And even against Atletico at the weekend, when even though they didn't play well, they did finish the stronger.
Barça may have problems but it's not physical, given they have recovered the lost competitiveness of recent years, when teams could roll them over with intensity.
NEW FC BARCELONA PODCAST IN ENGLISH