Barça president Joan Laporta signs new security chief from the Mossos
Ferran Lopez's job is to strengthen a department Laporta feels is both strategic and needs to be improved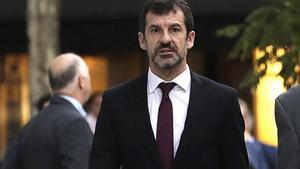 More signings at Barcelona under Joan Laporta. As first revealed by La Vanguardia, the new Barça president is finalising a deal to appoint the commissioner of the Mossos d'Esquadra (the local police force) Ferran Lopez.
Josep Lluís Trapero's No.2 will join Barça as the new chief of security and his main object will be to strengthen a department that Laporta feels is both strategic and needs to be improved.
Lopez, who has been part of the police force for 27 years, met with Laporta and Barça's new CEO Ferran Reverter last week to transmit his desire to join their project after being sounded out.
NEW FC BARCELONA PODCAST IN ENGLISH