Barça hand Lamine Yamal four-game ban for indiscipline with Spain U17s
The forward will sit out games with Juvenil A as a consequence for his behaviour
Barça have already decided on the punishment they will impose on Lamine Yamal for the "serious act of indiscipline" he committed during a call-up to the Spanish national team last February.
Those responsible for youth football have sanctioned the player with a four match ban in which he will not be able to participate with the Juvenil A team, as explained by the programme 'Què t'hi jugues' on Cadena Ser.
SPORT can add that this time in which the player will not be able to compete has been agreed with the Spanish Federation in a coordinated manner.
In fact, the two Real Madrid and Atlético teammates involved in the incidents will also have to serve the same sanction. The three clubs have agreed on the path to follow with their respective youth players.
In February, Spain U17s played in a tournament in the Algarve (Portugal) in which Yamal was outstanding, even scoring the goal that won the title against the Portuguese national team and becoming the top scorer of the tournament with three goals. However, his performance was marred by acts of indiscipline along with players from Real Madrid and Atletico.
Julen Guerrero, the Spain U17 coach, has not called him up for the elite qualifying round this month either, as the newspaper 'AS' reported this week.
On top of thatpunishment, Barça have acted diligently and, despite the consequences that their decision may have on a sporting level, have not hesitated for a moment in handing down an exemplary sanction to Lamine Yamal.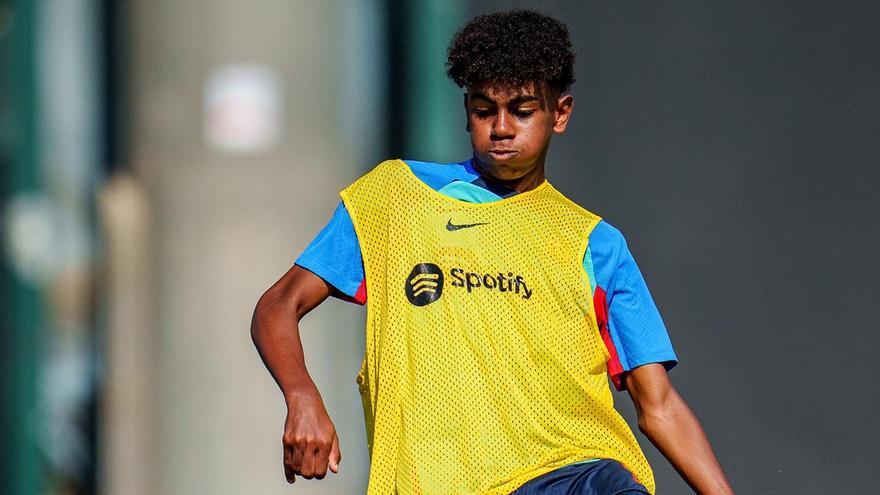 In fact, next Saturday (16:15) Óscar López's team will visit Zaragoza, leader of group 3 of the División de Honor juvenil with one point more than the Blaugrana, who have put discipline before competition.
The absence of the youngster detracts from the team's potential, but the club is going hand in hand with the Federation in this case and has opted for an exemplary punishment.