Barça get hands on 27th LaLiga title as Busquets lifts trophy at Camp Nou
The party started on Saturday despite the 2-1 defeat to Real Sociedad
Barça won their 27th league title on 'enemy' territory last Sunday. Xavi's side beat Espanyol 4-2 in Cornellà but did not receive the trophy. On Saturday, after receiving their first league defeat of the season at home to Real Sociedad (1-2), the players were able to celebrate and show off the title with all the Culés.
The result, which was not what the more than 88,000 fans who attended the Spotify Camp Nou wanted, did not dampen the spirits of those in attendance, who had been totally committed to the team all week. Real Sociedad won with goals from Mikel Merino (8th minute) and Alexander Sörloth (71st minute). Robert Lewandowski pulled one back in the 90th minute with a great header.
After the final whistle, Sergio Busquets, captain of the team, lifted the league trophy in front of an eager Camp Nou crowd. As usual, the protagonists spoke. First the midfielder and then Xavi.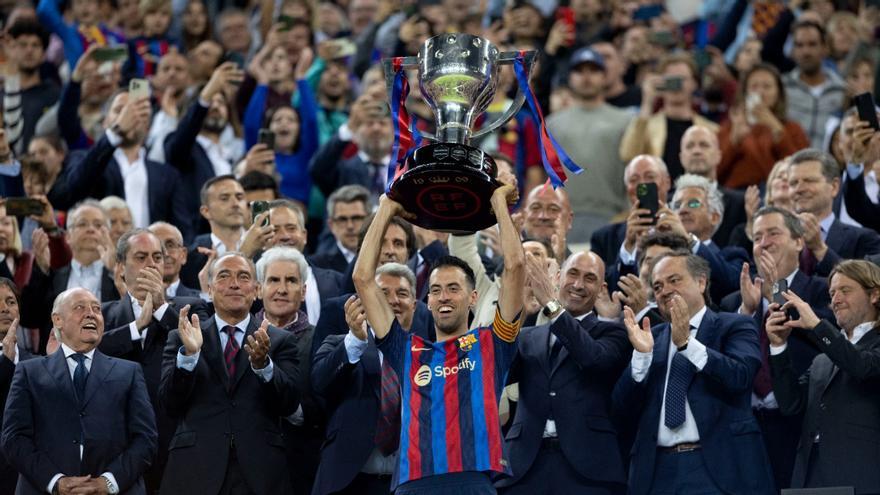 Busquets did not forget his teammates who started the season in the squad, such as Héctor Bellerín, Pierre-Emerick Aubameyang, Memphis Depay and Gerard Piqué. Nor the players from the reserve team who have helped the first team, nor the technical staff.
"We wanted to win titles and we have achieved it by being a great team, but above all with great fans. Thank you, because without you it would not have been possible. Don't doubt that this has only just begun. Visca Barça and visca Catalunya," said the Barça legend, who will end his time with the club at the end of the season.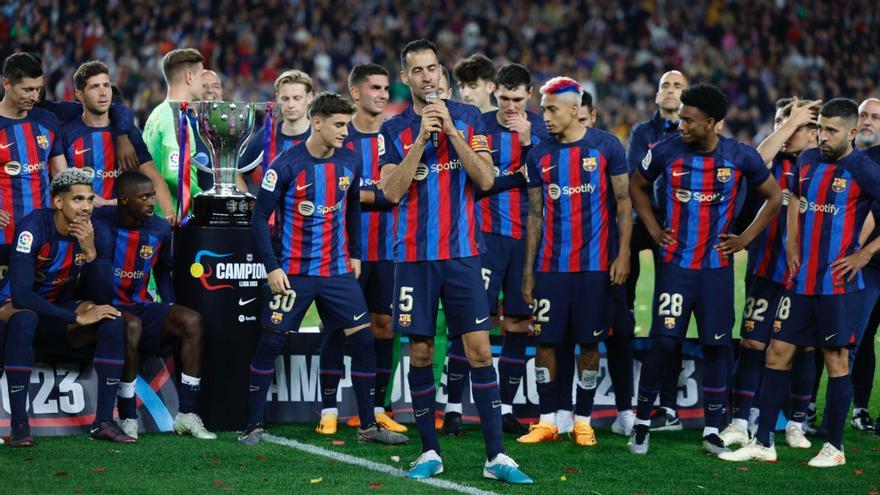 Xavi, who ended up being cheered by the players, wanted to remember what he asked for months ago in the Gamper against Pumas: "If you remember, I asked for the union of all Barcelona fans. It's time to say thank you. First to the president: 'We are not so bad, eh?' Also to his board for their unconditional support for the staff. We are very grateful."
To close the brief speech, Xavi highlighted the good atmosphere that was experienced in the champions' parade, held last Monday in the streets of Barcelona: "The fans have been incredible all season. The atmosphere at the rally gave goosebumps."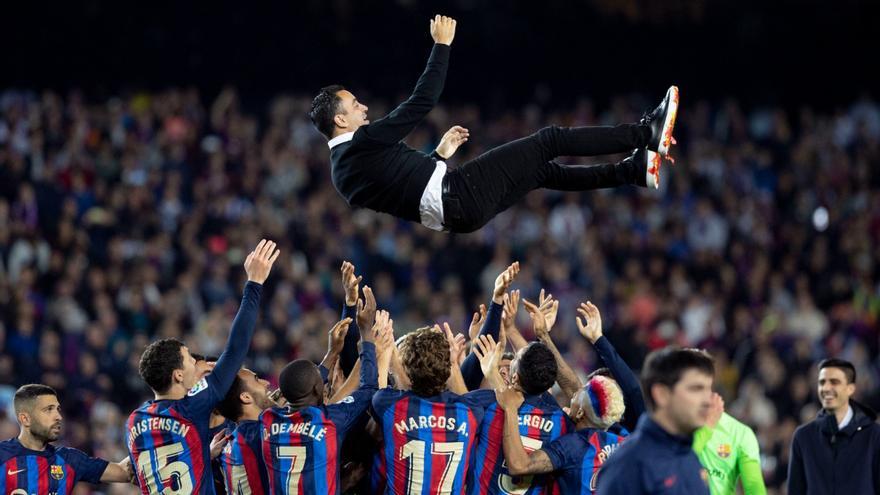 The celebration ended with the customary lap of honour around the pitch, which culminated in thanks for the unconditional support of the 'Grada d'Animació'. The players' families then enjoyed the party on the Spotify Camp Nou pitch.