NEWS
Barça doesn't want to strengthen Atlético with Griezmann transfer
Barcelona would prefer the player to move to an English or Italian club
The Barcelona board are reluctant to even consider selling Antoine Griezmann to Atlético de Madrid, as they do not wish to strengthen a direct rival in the battle for the 2021-22 league title.
The French forward, aware that Barça would like to sell him, is open to a move elsewhere. However, his preference would be to return to the club where he shot to fame.
As reported by Lluís Miguelsanz in SPORT yesterday, Barça has various options on the table - one of which is Atlético. Unable to meet the player's wage demands, the Madrid-based club is instead willing to include players in the transfer.
The Barça board has assessed the option, but there are two factors which make it a difficult transfer:
1) Barça's sporting directors are not particularly keen on any current Atlético players
2) The club is unwilling to let Griezmann join the current LaLiga champions, as he would only help to reinforce their dominance.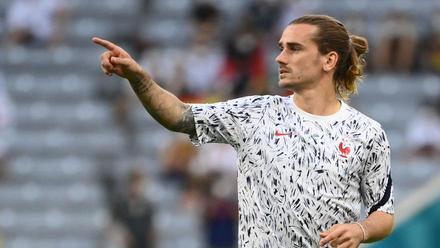 The Suárez precedent
Barça's recent history also makes this deal even more unlikely. The current board criticised Josep Maria Bartomeu for letting Luis Suárez join Atlético last summer. The Uruguayan striker ended up being key to Atleti's title win, finishing the season as the club's top scorer and playing a crucial role in their amazing first half of the season.
Bartomeu was criticised for paying part of Suárez's salary. Now, one year on, a similar option is on the table. Griezmann is keen to join Atlético, but the club cannot afford the transfer fee or the player's salary.
Barça would need to pay part of Griezmann's wage for him to join Atlético, taking into account the fact that the player won't want to lose money. The player's current contract sees him earn approximately 25 million euros a season.
Last season, Barça let 33-year-old Luis Suárez leave the club off the back of a serious knee injury that cast doubt over what he could offer to Atlético. Griezmann, meanwhile, is three years younger, and does not have the same injury record as the Uruguayan striker.
With this in mind, Barça would prefer him to join a team in the Premier League or Serie A, so that they would only face the player in Champions League fixtures.
The next few days, in which Griezmann is on holiday following his participation in the European Championships, are key in the negotiations between the club's technical secretariat and the player's agent. Barça wants to sell the player quickly in order to reduce their wage bill and sign Leo Messi, as the Argentina star would now count as a signing rather than a renewal in the eyes of LaLiga.