Barça deny Griezmann linked to 15 million Atletico Madrid payment
The fee relates to a first refusal on several Atletico players, including Saul and Gimenez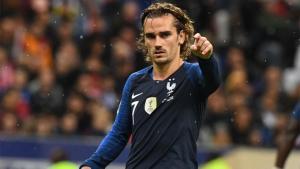 Barcelona have reached an agreement with Atletico Madrid to have first refusal on Saul Niguez and Jose Maria Gimenez if the Rojiblanco put them on the market one day. They also have the same option on a number of academy players, whose named have not been revealed. Barça can match any offer accepted by Atletico for these players.
Sources at Barça have told SPORT that this operation is not linked to Atletico's demand for more money as part of the transfer which took Antoine Griezmann to Camp Nou. El Mundo reported on Monday that Barça had agreed to pay 15 million to stop emails coming to light which incriminated them and suggested they had illegally tapped up the Frenchman.
However, the sources say the two operations are not linked. Barça are interested in Saul and Gimenez and secured first refusal to keep them ahead of the pack in the future. Barcelona confirmed that the fee paid to Atletico is around 15 million.
Saul Ñiguez and Jose Maria Gimenez, both 24, are two of Atletico's best players and could be good signings for Barcelona. Saul is a regular with the Spain national team and Gimenez starts every game for Uruguay. Both have release clauses well over 100 million euros.