Barça defender Javier Mascherano's most difficult decision is looming
The Argentine international must decide where his future lies after this season
So far he's played 450 minutes, less than in any other year since joining Barça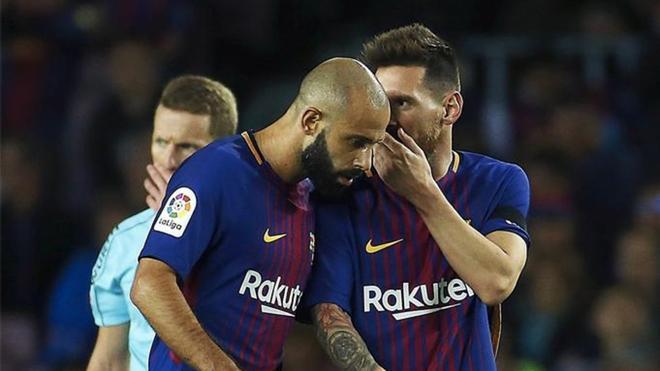 Leaving Barcelona is not easy. Especially after eight years in the first team. But Javier Mascherano's time at Can Barça is coming to an end. As of today, he's focused on giving his all to help the team win as many titles as possible and to go into next summer's World Cup in Argentina in the best possible condition. But that does not stop the 'Jefecito' thinking about his future.
In terms of international football, Mascherano announced after the win against Ecuador this week that he would leave Argentine after the World Cup next summer. "If I make it to Russia, that will be the end. I am clear on that," the former Liverpool man said in the mixed zone. Even though he wasn't talking in terms of club football, his quotes were perfectly comparable, given Mascherano already has another big decision in his head: to leave Barça at the end of the current campaign.
Leaving or not is not a recent idea. Mascherano has been thinking for various years about a change of scenery and it's likely to happen in June of 2018. His will is clear, bit the 'market' will also play an important role. Before returning to Argentina and working towards becoming a coach, Mascherano has the energy for one more European challenge. Maybe for two of three years.
Where? There are various options, but the Barça defender will prioritise his family over the sporting side of things. That means, for example, that the location and the language will mean more than his new team's aspirations. Winning titles an ambition which took him to Barça, will no longer be an obsession for Masche. If he doesn't receive an offer which matches his plans, he hasn't ruled out finishing his contract at Camp Nou, which runs until 2019 when he will just have turned 35.
If he was only thinking of honours, he would stay in Blaugrana. But he would do it by getting used to the bench. And if Mascherano has one thing clear, it's that he doesn't just want to play every now and again. So far this season, he has played 450 minutes in 11 games, his lowest amount since he signed for Barça in 2010. In other seasons, he had played 800 or 900 minutes by now. His importance has reduced due to the form of Samuel Umtiti and it will reduce further with the probable arrival of Yerry Mina.
Here are the minutes Mascherano has played by this stage in each of his seasons in Catalonia:
2017-18 450 min.
2016-17 550 min.
2015-16 925 min.
2014-15 540 min.
2013-14 755 min.
2012-13 843 min.
2011-12 810 min.
2010-11 428 min.