Barça coach Ronald Koeman "calm" about Messi contract situation
Messi has been a free agent since his deal expired at Camp Nou on June 30
FC Barcelona are still working on closing Lionel Messi's new contract as the forward prepares for the Copa America final against Brazil with Argentina.
On Thursday, the La Liga president Javier Tebas threatened Barça, saying that "it's impossible for Messi to stay if there are no exits" and was clear that he "doesn't know" if Messi will be able to start the 2021-22 campaign with the club.
Barça coach Ronald Koeman, speaking from the Koeman Cup charity golf event, has responded to Tebas' comments, saying he's still confident Messi will be at the club next season and expressing "calm" with relation to the situation.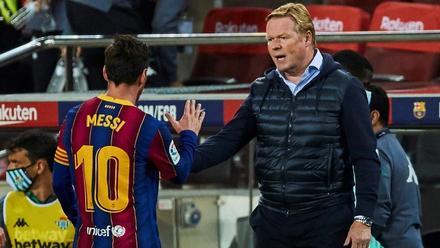 "I am very calm about (the) Messi (issue)," Koeman said.
The money from the Koeman Cup will go towards the Hospital Materno infantil de Sant Joan de Déu de Barcelona.