NEWS
Barça ask senior dressing room figures to agree to a wage cut
The club has asked its various 'captains' to accept a lower salary
Mateo Alemany, FC Barcelona sporting director, has met with Josep Maria Orobitg (agent of Sergi Roberto and Sergio Busquets), Arturo Canales (agent of Gerard Piqué) and Vicente Forés (agent of Jordi Alba) to try and persuade them to agree to a wage cut for their players for the coming season. Barça officials feel that these four senior dressing room figures - three of whom are club 'captains' - need to agree to a reduced salary to help the club abide with financial fair play rules for the 2021-22 campaign.
Barcelona has sent a letter to its players to explain the club's current situation in greater detail and to kick-start talks to reduce their wages. The players were on the same page as the club at the beginning, but things haven't gone smoothly at the negotiating table. The club initially asked the players to agree to a 40% wage cut, which was rejected by the dressing room. It then offered to extend their contracts for the same amount of money. In other words, the players would earn the same amount of money but it would be spread over a greater period of time.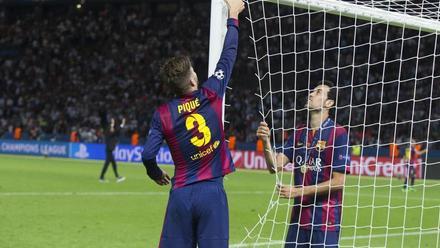 The players were already offered this option by ex-president Josep Maria Bartomeu last October in the wake of the Covid-19 pandemic. Some players, such as Piqué, De Jong, Lenglet and Ter Stegen, agreed to extend their contracts for the same amount of money. The other players, meanwhile, rejected the proposal.
Mateo Alemany is now attempting the same move again. The club feels that it has an ace up its sleeve in the form of Leo Messi, who has agreed to a new five-year deal (as opposed to the expected two-year deal) on a reduced salary. Barça is now hopeful that the other club captains will follow Messi's lead and agree to the same proposal.
It should be noted that this proposal could lead to players staying at the club until their late 30s. For example, Piqué's current deal is due to expire when he is 37; Busquets and Alba are due to remain at Camp Nou until they are 35; and Sergi Roberto is currently tied to the club until he is 30. If the contracts of these players are extended further, they will remain at the club well into the twilight of their careers.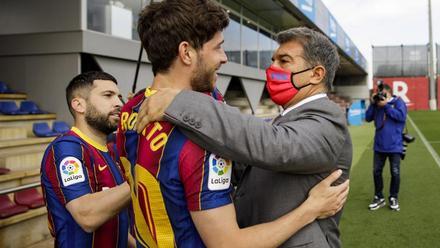 Barça finds itself in an extreme situation and is currently looking for another solution to the economic stranglehold that it is subjected to as a consequence of the club's losses over the last few years and its extremely high wage bill. This is what Mateo Alemany sought to explain to the players' agents when trying to negotiate a reduction. The salaries of Busquets, Alba, Sergi Roberto and Piqué are too high when you consider their current market value, and the club is trying to get them to make the same sacrifice that others have done, including experienced players such as Messi and new arrivals such as Eric García.
LaLiga won't make any exceptions
LaLiga president Javier Tebas isn't willing to make an exception in this case, as he feels that all clubs should be subjected to the same financial fair play rules. He wants Messi to remain in LaLiga but he wants to avoid the wrath of other clubs, as would happen if Barça were seen to be breaching the rules that all other clubs need to adhere to. Barça understands Tebas' stance and has a good relationship with him. Club officials are aware that Atlético de Madrid and Real Madrid would make an official complaint in the event that Barça were allowed to ignore the rules.