Barça and USMNT defender Dest: I can learn a lot from Lionel Messi
The right-back joined Barcelona from Ajax for an initial 21 million euros this month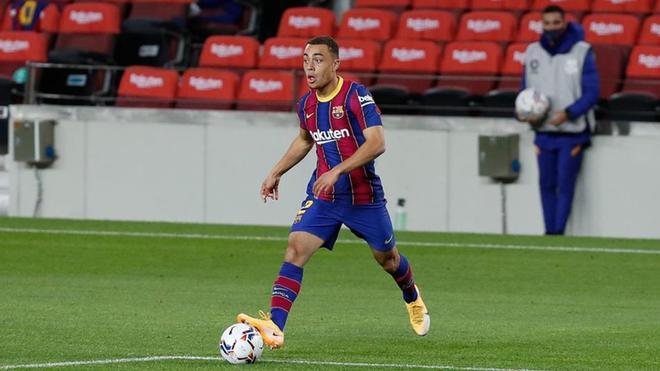 Sergiño Dest didn't want to let the opportunity pass, at 19 years of age, to play alongside the best player in the world, Lionel Messi.
The United States right-back, borin in the Netherlands, was asked in a press conference if he would have been better served to do one more year in the Dutch league with Ajax. His answer was clear on what he feels is best for his development as a player.
"I like challenges," he said of the suggestion. "I will develop at this club because I will see what I have to improve the most. It's a big challenge but that's what motivates me, playing with the best in the world. It's something I really wanted and dreamed about.
"I think I should take the chance to learn from these players, the best in the world is here, Messi, and I can learn from them. I feel like if you're in Spain, it's easier to learn Spanish. So if I am with the best players, it's easier to develop."
On his first meeting with Messi, he added: "He speaks Spanish so I can't really understand it, but I have to learn it. For me, it's awesome because I looked up to him, I saw him all the time on TV. I watched some great matches of him on YouTube and now I am training with him.
"It's really exciting and I can't wait to train with him again. I am really excited to play for this club and train with the best players in the world."
Turning down Koeman
Dest was also asked if it was awkward linking up with coach Ronald Koeman at Barcelona when he'd turned down the chance to play for the Netherlands under him in favour of playing for the U.S.
"No it was not awkward at all," he said. "In that time when I had to choose between the Netherlands and the U.S, I just told him honest that I didn't want to play for Netherlands and I wanted to continue with the U.S national team. It wasn't his fault or anything.
"We just keep our relationship good ... And after a while, he called my agent, asked if there was a chance I was willing to play over here and I was definitely willing to play in this beautiful club. And when we met after that it felt natural, so nothing happened."
"I want to do something great"
Dest made healdines for becoming the first USMNT player to represent Barça but he doesn't want to stop there.
"I don't feel like pressure in a bad way, but in a good way, so that's really good for me," he said. "I am the first American to be in the Barca team, so I am really proud of that. Right now I just want to make something great.
"I don't only want to be the first one but I want to do something great at this club. I will work really hard for this. I want to achieve big things in this club."