Barça agree to Deulofeu exit and will meet with Watford next week
The winger was on loan at the English club for the last six months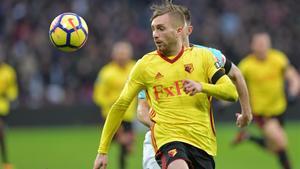 Gerard Deulofeu will leave Barcelona, most likely, next week. Once Pep Segura returns from Brazil, he plans to meet with Watford owner Gino Pozzo to finalise a transfer.
Deulofeu communicated to Barça several weeks ago that his desire was to remain at Watford next season, where he spent the last six months on loan. The Premier League club also want that, although the deails of the deal need to be discussed.
Remember that Deulofeu's out of contract next summer and has a release clause of 20 million euros. Another loan is out of the question, so it must be a permanent move. It's been 10 days since a telephone call served to touch bases. However, Segura's trip to Brazil has slowed things down.
The meeting with Pozzo is planned in Barcelona for next week. Barça will accept less than 20 million, although they want a number of performance-related clauses and a cut of any future sale.