Arsenal forward Aubameyang explains his 'No' to Barcelona
The striker was convinced by coach Arteta to sign a new deal at the Emirates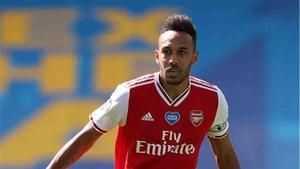 Arsenal forward Pierre-Emerick Aubameyang spoke to the French show Canal Football Club after extending his contract with the Gunners.
During the interview, the former Borussia Dortmund forward revealed he turned down Barça and explained his reasons for signing a new deal.
"There were several offers, notably from Barca, but also other clubs," he said. "My priority was to stay for two reasons: the first is the coach, Mikel Arteta, because we spoke a fair amount during the 'lockdown', as they say here, we were at home and spoke several times and he convinced me, notably in terms of the project.
"Of course, secondly, is the love that I receive from the fans and people at the club. Since I have been here I have been treated as one of their own, and as I am one of their own, I am going to stay here, it is as simple as that."
Aubameyang also spoke about Lyon's Houssem Aouar, who has been linked with Arsenal: "He's a really good player. We'd be lucky to have that type of player at the club, I am sure he would add a lot. I hope he comes, even if he is a Lyon player."