Antoine Griezmann: "We have all the tools required to win the Champions League"
Barça's French forward says he - and the team - have packed their suitcases expecting to be in Lisbon until the 23rd August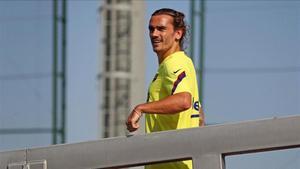 FC Barcelona forward, Antoine Griezmann, is optimistic about his team's chances against Bayern Munich on Friday. The two giants meet in the quarter-finals of the Champions League and Griezmann spoke to Barça TV about his - and the team's - plans during their stay in Lisbon.
BAYERN: "We are looking forward to it, we have worked well tactically and we are ready to play the game. We know it will be difficult, but we know what we have to do to qualify for the semifinals. It will be a very good match."
FITNESS: "On a physical level it's tiring due to the heat and the accumulation of matches, but the strangest thing is to play without our fans and their support." We see their messages on social media and this helps us through difficult times."
NEUTRAL TERRITORY: "It feels more like an international tournament with the national team. It's different, but it's good to be able to spend time with team-mates, talk about football, talk about life and enjoy working together to win. We have three games left to win the Champions League. We will have to all be together in the good times and bad."
OBJECTIVE: "I have my suitcased packed as if we're staying until the 23rd August. I brought my PlayStation and everything."
PERSONAL FITNESS: "In the first minutes of the Napoli game, I had no rhythm but little by little I felt better. The team really wanted to play a great game, and we are on the right track."
NAPOLI: "We made it 3-0 and played well. In the second half, we had to hold on because they pushed higher up the pitch."
PREVIOUS MATCHES VS BAYERN: "In 2016, I played against them and the round went well. We moved onto the final but that doesn't matter, the focus is on Friday. The team is ready."
FAVORITES: "The team, our group, is the most important thing. Bayern are playing well, they're full of confidence and have great forwards, but we've got the tools to produce a great performance and win."
BAYERN'S STYLE: "They're a very physical team that's used to having the ball. We have to make life difficult for them and play our game."
LEWANDOWSKI: "Bayern are not just Lewandowski. The wingers get forward a lot, Müller, Gnabry are also very good... Lewandowski scores a lot of goals but the danger comes from anywhere."
MESSI: "They'll be focused on Messi but also Luis, de Jong. We're a dangerous team. Jordi will get forward, Nelson too. Let's see what the coach decides to do."
WINNING THE COMPETITION: "Everyone has options. Bayern are our rivals on Friday, Atletico are dangerous in one-off matches, Pep's City, PSG."
STARTING PLACE: "Everybody who is here deserves to play but it's difficult to earn a spot in the team."