Ansu Fati's injury drama since hurting meniscus in November 2020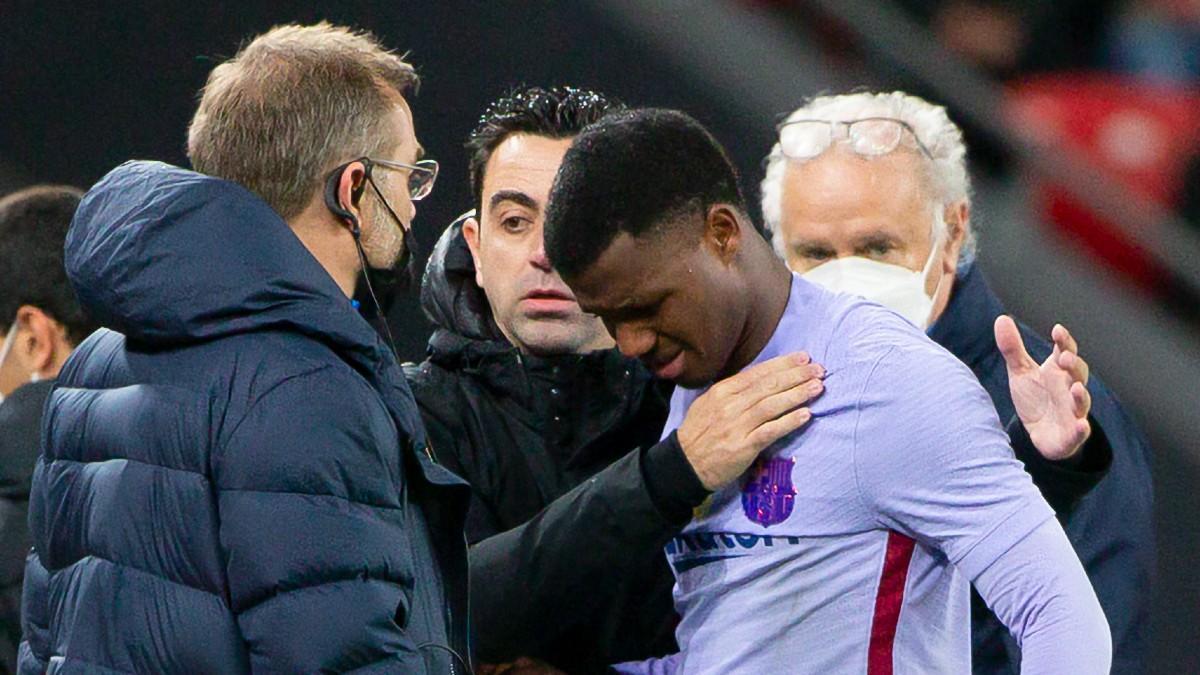 The forward has had a bad run of injuries over the last 15 months
Ansu Fati has had no luck, The Barcelona forward recovered from an injury to feature in the Supercopa and the Copa del Rey this past week but had to be taken off 35 minutes after coming on against Athletic Club on Thursday with a hamstring problem in his left leg.
Barça coach Xavi Hernandez had already warned the club must take care with Ansu to avoid a relapse. The No.10 came on in the 61st minute at San Mames but extra-time perhaps pushed him over the edge and he came off in the 96th minute.
Barça have now played 73 games since Ansu injured the meniscus in his knee against Real Betis in 2020. Ansu has been able to feature in just 10 of them (five goals, one assist). In other words, he's played 14 percent of Barça's games in that time.
INJURY
07/11/2020
Everything began with the meniscus injury in his left knee in a match against Betis at Camp Nou.
OPERATION
09/11/2020
That injury forced him to undergo surgery with Dr. Ramon Cugat. Barça said he would be out for four months. He was almost out for a year, with more treatment and operations needed in the meantime.
TREATMENT
04/01/2021
Given the difficulties in overcoming the injury, Ansu began a regenerative biological treatment with Cugat, although Barça said everything was progressing satisfactorily.
CHECK UP
06/05/2021
Ansu travelled to Porto for an arthroscopy on the injury in his knee with Dr. Jose Carlos Noronha.
DREAM RETURN
25-26/09/2021
After all most 11 months out, Ansu received the green light to return against Levante. He came on in a game he will never forget, scoring after receiving an incredible ovation from the Camp Nou crowd.
PROBLEMS
27/10/2021
One month and six games after his return, Ansu missed the game at Rayo Vallecano because of pain in his other knee, the right one. That proved to be Ronald Koeman's last Barça game as they lost 1-0.
BACK QUICKLY
01/11/2021
Ansu soon returned, coming on against Dynamo Kiev in the Champions League at Camp Nou.
MUSCLE INJURY
06/11/2021
Ansu opened the scoring at Celta Vigo as Barça raced into a 3-0 lead but had to be taken off before half-time after suffering a hamstring injury.
CLEARANCE
11/01/2022
After two months in cotton wool, he returned for the Supercopa, coming on against Real Madrid in the semifinal to score the goal which took the game to extra-time, before Barça were eventually eliminated.
RELAPSE
20/01/2022
At San Mames, after just 35 minutes on the pitch, Ansu's hamstring went again. He left down the tunnel in tears. The exact scale of the problem is not yet confirmed, but he could be out for two more months.