Ansu Fati to return to Barcelona squad for Sunday's LaLiga game vs. Levante
The young forward has been out for 10 months but has made good progress in training recently
Not long now. Ansu Fati's return to action is around the corner. There have been moments since he injured his knee last November when the same was said but this time it's true. The Barcelona youngster is ready to make his comeback.
Barça's plan is to include him in the squad for Sunday's game against Levante on Sunday. There was speculation he could travel to Cadiz on Thursday. Those rumours increased after the draw with Granada, but Barça have a plan and don't want to rush things or take risks.
Ansu will return 10 months after injuring the meniscus in his knee. It's not been easy but it's not the first time he's had to deal with a long injury. Five years ago, he was out for a season after breaking two bones in his leg.
In the club there is optimism about his return to action and believe he's key to the club's rebuild in the post-Lionel Messi years. He has even been given Messi's old No.10 shirt.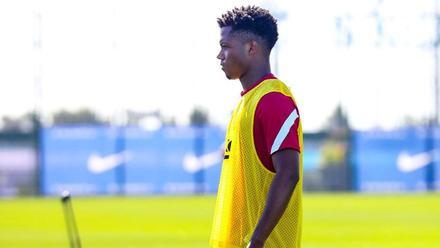 INJURED PLAYERS
Barça have published images on social media of some of their other injured players working hard. Jordi Alba, Pedri, Ousmane Dembele and Sergio Aguero are all pushing for comebacks in the coming weeks, too.
Pedri is the closest to a return. He was injured against Bayern Munich and it was estimated he would be out for two weeks. Alba got injured the same day but may not be back as soon. He may have to wait until after the international break in October.
Dembele and Aguero are further away and it's complicated to say when they will be back exactly.