Ansu Fati at Sevilla: Stories about the incomparable kid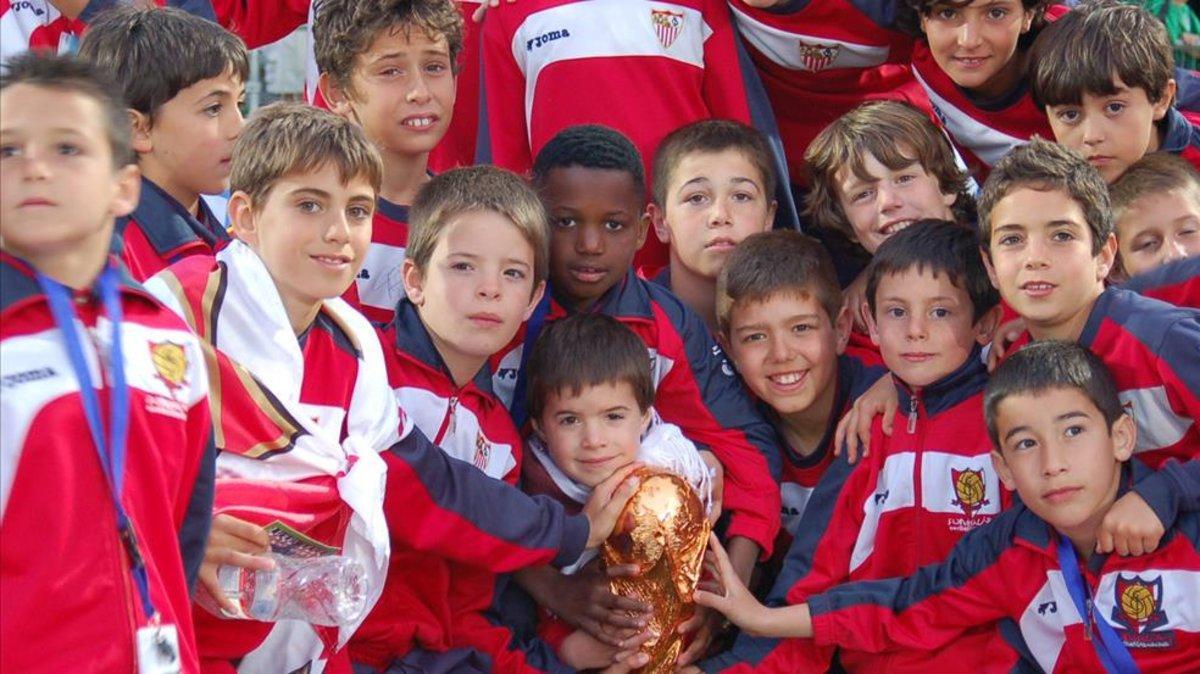 He played for a year and three months at Sevilla until Barca bought him in 2012 at 10 years old
On Sunday, Ansu Fati will face Sevilla for the first time, the club he played for during a year and a half, from the summer of 2010 to the autumn of 2012. It was a decisive time in his training as a player, but also as a person.
These are some of the stories that shaped Ansu Fati.
Where did this child come from?
Ansu's first big appearance for Sevilla took place at the youth mini Club World Cup tournament organized every year in Portugal by Ricardo Godoy, a tournament that now takes place on the Costa Daurada in Tarragona. Ansu was of 'pre-benjamin' age, but the coach of the Sevilla youth sides, Ernesto Chao, invited him to jump up two categories to see how he developed. He played against children three years older than him.
His display was so impressive that in a match against a Brazilian team, the opponents demanded to see his papers to prove that he was only eight years old. Ansu took out his passport, which shows that he was born on October 31, 2002.
Sevilla ended up winning that tournament, after defeating Ajax in the final. In that team there was also another player who would end up at Barça, Nils Mortimer from Malaga, now at Barça B.
Scars on the legs
When Ansu joined Sevilla, some of his teammates were surprised to see the state of his legs. They were full of scars and marks. There was no apparent explanation. Some coaches from the Sevilla academy were concerned. What did those healed wounds come from?
Ansu himself resolved their doubts. "In Bissau we used to play in the street and we often crashed into the doors and walls of the houses, which are made of metal sheets," he replied.
Jesus Navas, idol
One day, after training, Ansu went with his coach to the shopping centre located next to the Sevilla sports centre. He needed some boots. He tried some on, but shortly before paying for them, he fell in love with another pair, purple ones, which immediately reminded him of the ones Jesús Navas, one of Ansu's idols, wore. Shyly, he asked if he could try them on. He ended up taking them and a few days later, Navas signed them.
Years passed. Jesús Navas went to Manchester City and returned to Sevilla. Ansu grew up in the Barça academy, until reaching the first team last season. And he traveled to the Sánchez Pizjuán with Barça, last June. But he did not play, and did not dare to knock on the door of the opponents' dressing room to ask Navas for his shirt. He did it days later, through a club employee, finally getting Jesús Navas' shirt.
Pascual and María del Mar, key figures
Little Ansu spent many hours at the home of Pascual and María del Mar, a bank manager and lawyer, a couple who welcomed the boy as if he were their third child. Pascual used to be in charge of taking Ansu from Herrera to Osuna: there, in Osuna, about 85 kilometers from Seville, Ansu would get on the bus chartered by Sevilla to pick up the children and from other parts of Andalusia and take them to the training sessions.
Pascual and María del Mar were like parents for Ansu. They helped him every day with his homework and in his adaptation to Herrera. Years have passed, but Ansu does not forget his great Herrera mentors, with whom he maintains contact to this day.
Two sandwiches, just in case
It was common for Ansu to go for a snack before or after training at the bar in the Sevilla training ground. He used to order a hot Spanish tortilla sandwich. So far, pretty normal. But then it was found out that María del Mar, the woman who welcomed him and took care of him in Herrera, also prepared a sandwich for him every day.
The Sevilla staff asked him what he was doing with the sandwich that María del Mar prepared for him in Herrera. The answer left them open-mouthed. "He told us that in his country you did not eat until you had food for the next day assured. That is why he kept the sandwich that he brought from Herrera and ate the tortilla in the sports city," someone at the club said.
A foreigner in Seville
Ansu Fati only obtained Spanish nationality in September of last year. Until then, he played as a foreigner, a circumstance that before the age of 18 obliges clubs to be especially careful with his career and possible market movements. In his case, Ansu benefited from a regulation of the Junta de Andalucía that allows clubs to register young foreign footballers - to facilitate their integration - as long as they are registered in Andalusia.
Bitter goodbye
His departure from Sevilla was not as calm as it could have been: the Andalusian club's version of events is that Ansu spent a few months without playing for Sevilla, shortly before going to Barça, because Barça asked the very young footballer not to play more with Sevilla so as not to get attached and so his departure from the club would not be so difficult. At Sevilla they say that they never refused to give the player his freedom, although they do not hide that they would have liked more fluid communication with Ansu's father, who was in charge of the decision to sign for Barça.
They also say that just over a year and a half ago, when Ansu's future was not as clear as it is now, his father came to offer him to Sevilla again, to play for Sevilla Atlético. The idea of Ansu's father, per their version of events, is that both Ansu and his brother Brahima, who at that time played for Vilafranca, could join Sevilla Atlético.