Another monumental Raphinha tantrum in Barça's Getafe stalemate
The Brazilian was not happy to be taken off as Barça were held to a draw
Raphinha starred in the final stretch of the Barcelona's goalless draw against Getafe at the Coliseum Alfonso Pérez in La Liga on Sunday. However, the Brazilian forward showed his anger when he was substituted for Pablo Torre in the latter stages of the match.
Raphinha was at the same level as the rest of the Blaugrana team in the stalemate against Getafe: willing but lacking in ideas. That said, he was involved in some dangerous actions for Barça, including a shot against the post in the first half that could have changed the match.
Barça's attacking ability waned in the second half, despite Xavi's introduction of more forwards, with Ansu Fati and Ferran Torres even sharing minutes with Lewandowski and Raphinha himself.
Looking to unblock the attack, Xavi decided to bring on Pablo Torre in the last few minutes and withdraw Raphinha. The ex-Leeds United man received the substitution with obvious gestures of displeasure. Firstly, he hit the roof of the Barça bench when he arrived on the sidelines. And once the match was over, he remained seated on the grass next to the bench, looking angry.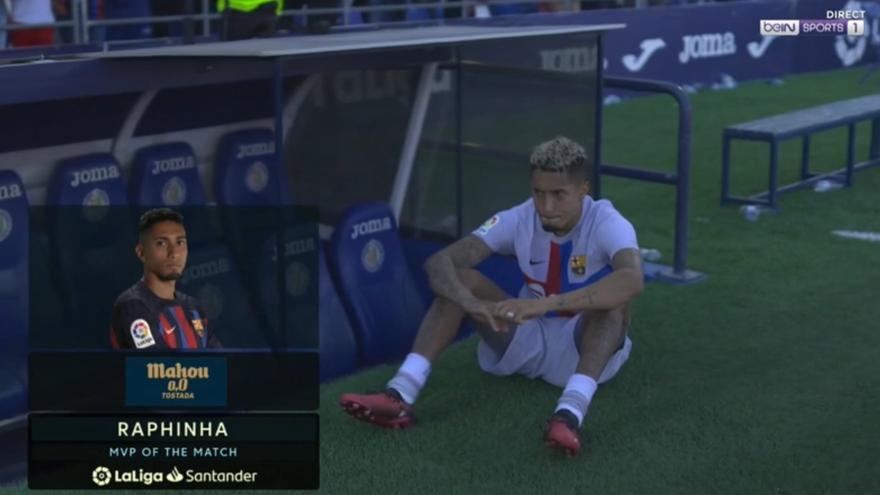 Raphinha's anger
Whether his displeasure was caused by the substitution, the unlucky finishing or both, the fact is that the image of Raphinha on Sunday was that of another temper tantrum, similar to the one he threw weeks earlier in the Europa League clash against Manchester United. To make matters worse, he had been chosen as the MVP of the match.
At the time, Raphinha apologised in public and coach Xavi Hernández played down his reaction, but in the subsequent match against Cádiz, the Brazilian warmed the bench. We'll see what happens this time in the clash against Atlético de Madrid on 23 April at Spotify Camp Nou...