A game of two halves for Barça as they lose 4-2 against Roma
The dominating performance by Rafinha and Malcom's first goal for Barcelona were the highlights but the academy stars were undone by a more experienced Roma side at the end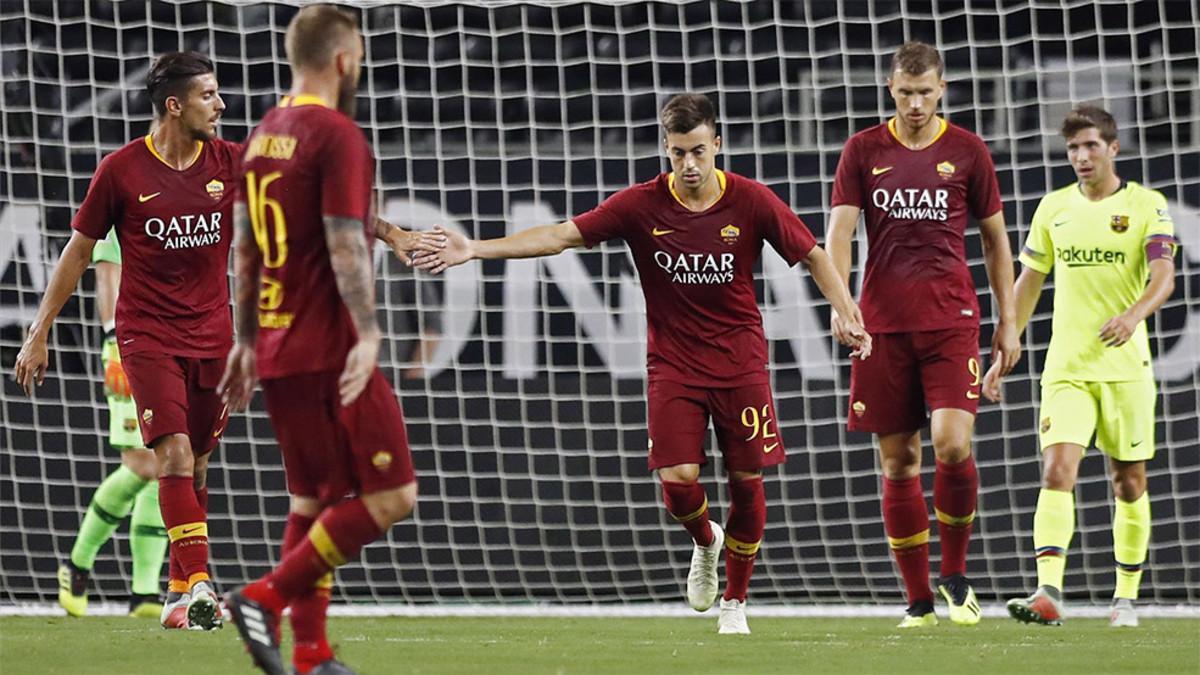 It was Roma who once again came out victorious against Ernesto Valverde's Barça. This time at least it didn't hurt as much because it came during preseason. The positive to take from the result is that when Barcelona had their senior players out on the pitch, they were far superior to Roma.

FC Barcelona
Roma

FC Barcelona
Cillessen, Semedo (Palencia 63'), Marlon (Chumi 45'), Lenglet (Cuenca 63'), Cucurella (Miranda 46'), Arthur (Riqui Puig 46'), Sergi Roberto (Monchu 46'), Rafinha (Collado 63'), Aleix Vidal (Ballou 46'), Munir (Abell Ruiz 46') y Malcom (Carles Pérez 63')
AS Roma
Olsen (Mirante 46'), Florenzi (Kolarov), Manolas (Juan Jesús, 61'), Marcano (Fazio), Santon (Cristante 61'), Pellegrini (L.Pellegrini 61'), De Rossi (Pastore 61'), Strootman (Schick 61'), Kluivert (Perotti 61'), Dzelko (Gonalons 61') y El Shaarawy
Goles:
1-0: m. 5. Rafinha 1-1: m. 35: El Shaarawy. 2-1: m.50: Malcom. 2-2, m.78: Florenzi; 2-3, m.83: Cristante; 2-4, m.86: Perotti (penalti)
Arbitro
Juan Carlos Rivero (Estados Unidos). Mostró tarjeta amarilla a Aleix Vidal y Manolas
Campo
AT&T Stadium, de Arlington (Texas, Estados Unidos) ante 54.726 espectadores
Unlike against Tottenham, where their English opponents pushed the pace, Roma were more content to sit back and look to strike on the counterattack. Barcelona were almost ahead in the first few minutes as new boys Lenglet and Malcom linked up well before Munir headed the latter's cross just wide. A warning side for the Italians but one they didn't react to.
Sergi Roberto played a nice ball to Malcom, in space, who skillfully knocked it down for Rafinha on the edge of the box. The Brazilian played a nice one-two with Munir before powering it past the Roma's new keeper Olsen. We were only six minutes in but you sensed this could turn into a cricket score if the Italians didn't respond. Thankfully, for their fans, they did.
Malcom almost made it 2-0 but Roma were soon on level terms. A familiar name to Barcelona fans, Kluivert, was the architect. Justin, Barça legend Patrick's son, burst down the right-hand side before pulling it back for El Shaarawy to even things up.
The game began to heat up as tough tackles came in from most sides, although largely from Roma. Friendly? What friendly?
Valverde didn't make as many changes as he did against Tottenham and, as if the game needed further spice, it was Malcom who would get on the scoresheet next. Academy player Ballou Tabla didn't give up on the ball in the penalty area and fizzed it across goal to the other wing where Malcom slotted home to put Barça ahead once again.
After that goal, Valverde made more changes and was now fielding a largely Barça B side. Roma were on level terms through Florenzi after a series of errors from the young Barcelona team. Five minutes later and the Italians had completed their comeback. Cristante found a bit of space in the box and made it 3-2, although Cillessen should've done better. And three minutes after that it was 4-2 when Cuenca, who didn't have his best night, gave away a penalty which Perotti converted.